CAPABLE HERITAGE CONSTRUCTION (PTY) LTD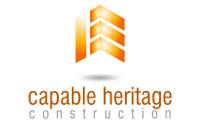 Premium Listing
Physical Address:
41 3rd St, La Rochelle, Johannesburg, 2190
Business Overview
About CAPABLE HERITAGE CONSTRUCTION (PTY) LTD
Capable Heritage Construction (Pty) Ltd is a registered construction company based in South Johannesburg, we specialize in building construction, electrical, all types of welding, plumbing, renovation and alteration etc. We have a team of professional, well trained to deliver excellent service. We are known for delivering excellent services. Motto: We are capable to deliver.
Men said to be more Idiotic
The theory that men frequently do stupid things is now supported by the first systematic analysis of sex differences in risk-taking behaviour.