CAPABLE HERITAGE CONSTRUCTION (PTY) LTD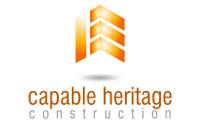 Premium Listing
Physical Address:
41 3rd St, La Rochelle, Johannesburg, 2190
Business Overview
About CAPABLE HERITAGE CONSTRUCTION (PTY) LTD
Capable Heritage Construction (Pty) Ltd is a registered construction company based in South Johannesburg, we specialize in building construction, electrical, all types of welding, plumbing, renovation and alteration etc. We have a team of professional, well trained to deliver excellent service. We are known for delivering excellent services. Motto: We are capable to deliver.