CAPABLE HERITAGE CONSTRUCTION (PTY) LTD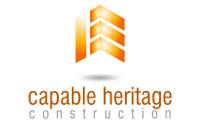 Premium Listing
Physical Address:
41 3rd St, La Rochelle, Johannesburg, 2190
Business Overview
About CAPABLE HERITAGE CONSTRUCTION (PTY) LTD
Capable Heritage Construction (Pty) Ltd is a registered construction company based in South Johannesburg, we specialize in building construction, electrical, all types of welding, plumbing, renovation and alteration etc. We have a team of professional, well trained to deliver excellent service. We are known for delivering excellent services. Motto: We are capable to deliver.
Maintaining the outside of your home
Buying and owning a home comes with a lot of responsibilities. Just like regular oil changes for your car, keeping up with regular home maintenance tasks will keep you from future headaches and wasted money. It can be intimidating to think about these various task. The good news is that you can do the majority of your home maintenance on your own without much experience. Below are a few tips to help you keep your home in tip top shape.